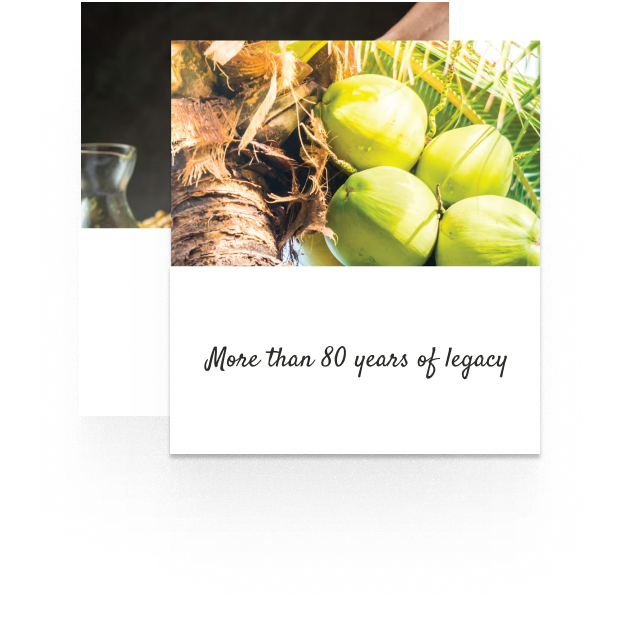 Our Story in a
Nutshell
Kerala has been well known as the home of coconuts from ancient times. In this land of coconuts, also known as 'God's own country', KPL Oil Mills (P) Ltd. was founded in 1941 by the envisioned industrialist Late Shri. K.P. Lonappan. The legacy passed on by the great visionary Late Sri.K.P. Lonappan Kandamkulathi to his linear descendants has grown and will continue to grow in the days to come.
Started as a Rice & Coconut Oil Mill, it soon flourished, by exploiting to its benefit, the advantages of its location which was ideally suited for the nature of the industry with availability of raw materials in plenty and easy access for transportation both through surface and water. Foreseeing the long-term advantage, the promoters later, in the course of business discontinued with Rice and concentrated more on Coconut Oil. At present KPL oil Mills Ltd has the constitution of a Private limited Company under the Companies Act 1956 (Amendment Act, 2001).
Besides being the leading brand and a standard for rates and quality in the coconut oil market of Southern India, the brand KPL could establish its name for its products in places in the central, eastern and northern part of the country, besides prominent far-east countries. The brand KPL Shudhi, launched in the year 1995, has been a trend-setter in the edible oil consumer pack segment and is still the market-leaders in the home state and also has a huge market share outside Kerala.
Our factory is situated in a prime location in Irinjalakuda in the Thrissur district of Kerala, covering an area of more than 2 acres of land. The Milling Plant of the factory is equipped with most rugged and efficient machineries that too with equally good standby sets. The Company has its own unique pre-milling processes on copra, and equipped facility for Machine- Drying as well as yard for natural drying, sufficient storage area, conveyor system for in and out movement of dried and un-dried copra, facilitating less labour involvement.
The Filtering, Filling and Packing Plants have accumulated machinery and electronic systems over the years. An additional packing plant was also started by the Company at Mapranam a few years back. The Factory has got spare capacity for utilization and could easily grab an opportunity when one comes its way.
The Company, rock footed on its long glorious tradition, keeps up with the ever changing consumer preferences through launching innovative products with quality and adopting the latest technologies available in the market. By constantly being next to the heart of the consumer, KPL Oil Mills Pvt. Limited delivers what consumers wish.